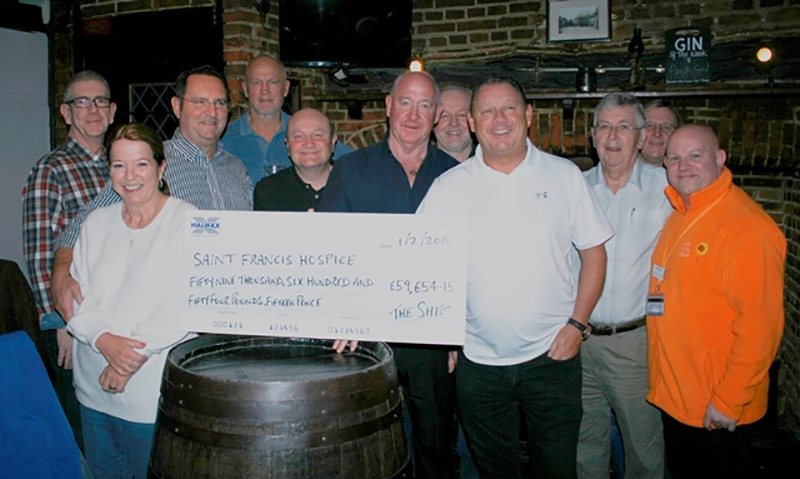 Weekly Quiz Raises £60k for Saint Francis Hospice
Article taken from Saint Francis Hospices' story – 'Local pub quizzers raise almost £60k' by Laura Coyle
Community spirit in a local pub has raised almost £60,000 for Saint Francis Hospice over the past decade. The Ship Pub in Gidea Park holds a quiz night every Thursday, providing an evening of fun for the regulars and around £100 a week for the Hospice.
Landlords Chris and Mary Smythe, who have been running the pub for over 10 years, are very modest about the support they give. "We just put out a few nibbles and provide a venue – it's the organisers that do the rest," Mary said.
And although the money couldn't be raised without the support she and Chris provide to the co-ordinators, Mary has a point. Quiz-lovers and regular patrons to The Ship, Ian and Andy, took over the management of the weekly quiz when the previous organiser moved away.
"We don't do it on our own though," explained Ian, an equally modest man. "The regular teams take it in turns to host, and I just manage that rota. They write their own questions and act as quiz master too. It's a real team effort."
Ian's wife Angela collects and banks all the money which, in 2017, totalled £5,273.90. And they have no intention of stopping. Supporting their local hospice is something that the patrons are passionate about, and the £59,654.15 they have raised speaks for itself.
Pictured: Landlords Mary and Chris Smythe pictured with Saint Francis Hospice Fundraiser Andy Furneaux, and just some of the many regular quiz-goers.